We drive transformation and create the working worlds of tomorrow
BEOS is more than a traditional asset manager – BEOS is your partner for corporate real estate
BEOS AG is one of the leading asset managers and developers of corporate real estate in Germany. From its headquarters in Berlin and regional offices in Hamburg, Frankfurt am Main, Cologne, Munich and Stuttgart, the company, which was founded in 1997, has an interdisciplinary team of around 250 employees and manages a portfolio of 166 commercial properties.
Approx. 1750 tenants
Rental area of 4.4 million square metres
Total investment volume of more than EUR 7,1 billion (*based on gross asset value)
(as at 30 June 2023)
In addition to the existing portfolio, more than 300 000 square metres of new construction space are planned in the next few years, almost 100 000 of which are already being realised.
BEOS AG develops and manages mixed-use commercial real estate in the office, production, service and logistics sectors. Rather than building on green fields, we revitalise and consolidate industrial wasteland. Our business expertise and creative ideas enable us to develop new utilisation concepts and acquire new tenants.
We create market access for institutional investors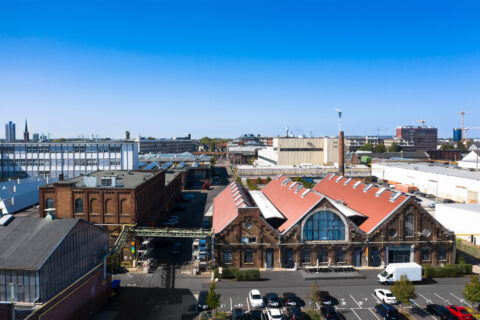 Our unique expertise has established us as one of the leading providers in this fast-growing sector of the German real estate investment market. We also provide institutional investors with market access to this asset class, which has long become an established and valued investment product. In 2010 we launched our first BEOS special fund, which was followed by a large number of other fund products.
The revitalisation and further development of the sites we manage does not focus solely on space efficiency and flexibility. With individual enhancements of the properties and at fund level, we also aim to ensure a steady improvement in the carbon footprint of the properties we manage.
As an asset manager, BEOS is part of a strong community
Tenant satisfaction is at the heart of the corporate activity of BEOS AG, be this a large international corporate with individual production and storage space, a local medium-sized company or a newly founded start-up at the beginning of its success story. This enables us to create long-term value for institutional investors such as insurance companies, employee benefits institutions and family offices.
BEOS is thus more than a traditional asset and lettings manager and more like a moderator and curator of a community of all parties involved. In addition to tenants and investors, these also include neighbours, municipalities, partners and all others working on the sites, enjoying culture or spending their free time there. Our project managers therefore actively involve all stakeholders in the design process. We have also conceived a name for all this: the BEOSphere. The term is derived from atmosphere and biosphere and describes our attitude as well as the processes with which we actively encourage tenants, investors, neighbours, service providers and other business partners to become involved in designing the sites.
BEOS – part of a strong corporate family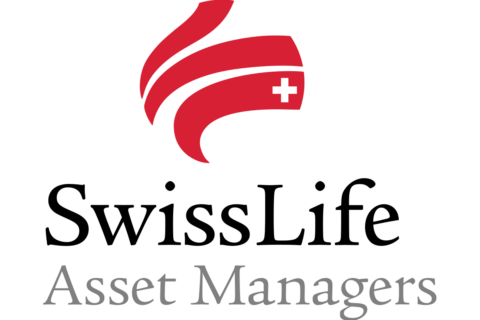 BEOS AG has operated under the umbrella of Swiss Life Asset Managers since 2018. Swiss Life Asset Managers has more than 160 years of experience in risk and asset management. The company's objective is to achieve stable, long-term investment returns, creating the basis for its clients to make solid, long-term plans with self-determination and financial confidence.
As a result of the merger, BEOS is able to benefit from the network and financial strength of Swiss Life Asset Managers as an internationally active corporate group. This is reflected, for example, in shared ESG standards and cross-platform solutions that are useful for the employees of all companies. This enables large-volume transactions to be realised. One such example is the FRANKFURT WESTSIDE project development, which, once completed, will influence the working world of tomorrow as the largest urban industrial and commercial district in Frankfurt am Main. Furthermore, joint fund products with an international portfolio, such as "Swiss Life Real Estate Funds (LUX) S.A., SICAV-SIF – ESG European Industrial & Logistics", can be developed.
Unique market access to corporate real estate in Germany and Europe
Since 2010, we at BEOS have been the first provider to pave the way for institutional investors to enter the corporate real estate asset class – now an established alternative to traditional residential and commercial real estate. The launch of the "BEOS Corporate Real Estate Fund Germany I" marked the start of a series that now comprises several open real estate special AIFs and has been supplemented in recent years by further investment opportunities – such as the "BEOS Value Investment Fund Germany I" repositioning fund launched in 2016. Finally, the above-mentioned "Swiss Life Real Estate Funds (LUX) S.A., SICAV-SIF – ESG European Industrial & Logistics" fund followed in September 2020 as the first institutional product launched jointly with Swiss Life Asset Managers Germany.
Corporate real estate – beyond the original definition
The original definition of the corporate real estate asset class comprised four types of mixed-use commercial property: production, logistics, office and service space. However, the use class has since developed further – as have the needs of the tenants of BEOS, most of whom are medium-sized companies. Our understanding of corporate real estate has therefore expanded significantly in recent years:
Typically conceived as production sites, the building structure of these properties developed organically over time to suit business requirements and are often reminiscent of a campus. Their comparatively central location in urban areas and the manifold possibilities for transformation make them especially attractive. By extending, remodelling and modernising these properties, they can be repurposed from single-use to multi-tenant sites offering flexible uses.
Unlike most repurposed and logistics real estate, business parks are designed from the start as mixed-use sites. A combination of office, service, warehousing and open space is let in a professionally managed building complex. Modern business parks tend to be centrally located and compact in size, while older ones are primarily located outside of cities or in fringe areas with good transport connections. The proportion of office space depends largely on the year of construction.
Modern manufacturing properties usually house production facilities of the low-impact manufacturing industry. Like logistics properties, they also provide adequate space for other types of user and can generally be used by multiple tenants at the same time. They tend to have a limited amount of office space. Manufacturing properties are now predominantly located in more modern clusters with a well-developed urban infrastructure.
For the most part developed specifically for a single company, logistics properties are frequently not suitable for multiple occupancy. Older properties are therefore only of limited relevance to the corporate real estate segment. This is not the case for modern properties built after the year 2000. As a rule, these can be quickly repurposed to meet new requirements and developed for mixed use. Logistics properties are generally developed by BEOS so that they are ideally located near important transport hubs and within a short distance of city centres.
Modern pharmaceutical and biotech companies require a wide variety of spaces – in addition to core laboratory space, these include stylish communal areas, back offices and logistics space. The relatively young life science real estate asset class combines these and other types of space with a high location appeal, which is indispensable for businesses competing for top specialist talent.
Modern research facilities consist of much more than a large office space and a coffee machine. In the era of Industry 4.0., in addition to the traditional back office segments, hall space with a large number of shared-use facilities for testing is also important. However, the best ideas spring from dialogue. For this reason, a modern research campus also offers communal areas and green spaces. For international project-based work, facilities may include modern commercial residential units with serviced apartments that can be rented for several weeks or months.
Our corporate real estate is an integral part of modern districts
We do not just consider these properties in isolation. Beyond property boundaries, much of the corporate real estate we manage is also part of a modern commercial district that is open to all residents and offers a range of urban cultural and leisure facilities. This idea of community is particularly important to us. It underpins our attitude and our entrepreneurial approach of inviting people to be actively involved in shaping the development of the sites.