Strategic, sustainable and transparent – BEOS portfolio management
By applying all the right individual measures, BEOS AG creates lasting values at portfolio level – enabling it to offer stable returns and a high level of security.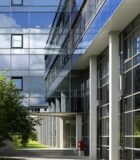 Tenants and investors benefit from our corporate real estate.
Corporate real estate is a high-growth segment offering stable value in the German investment market. Due to its attractive opportunity-risk profile, it is represented in the portfolios of many institutional investors and serves as a meaningful supplement to "traditional" commercial properties such as office and retail.
BEOS AG has been focusing entirely on corporate real estate since 2002 and is a pioneer in this market segment in Germany. In 2010, we launched our first institutional fund based on this versatile asset class. Since then we have consistently developed our investment strategy further, particularly incorporating clear sustainability and ESG criteria in five fields of action: BEOS as a company, development, asset management, energy and portfolio.
Around 1800 tenants from a wide range of sectors ensure a broad tenant base.
80% of all tenants in the BEOS portfolio renew their contracts.

An average rent of EUR 6,81 per square metre for mixed-use space in our preferred locations.
(as at 31 December 2022)
Our interdisciplinary team covers all aspects of value creation
As a portfolio manager, we specialise in managing and administering special real estate funds and other vehicles as well as club deals focusing on corporate real estate. BEOS covers all growth regions in Germany and all investment styles from Core and Core Plus to Value Add – by bundling corporate real estate at various stages of development into investment products. BEOS also manages fund products with a cross-border European portfolio together with Swiss Life Asset Managers Germany.
In its work, the interdisciplinary development team at BEOS draws on experience from all areas of the commercial real estate market – from new construction and the planning of special properties to the revitalisation and conversion of properties previously used for industrial purposes. Our services cover the entire value chain such as acquisition and due diligence, feasibility analysis and obtaining building rights, the structuring of equity and debt capital, leasing, project management and sale.
Value investment – our management creates value
In addition to asset management for corporate real estate, value investment is one of the most important foundations for BEOS AG – and has determined its development approach since the company was founded in 1997. Value investment (or value-oriented investment) means investment in existing properties whose value can be increased in the short to medium term through very active repositioning and management services from BEOS. These include, for example, the conversion and upgrading of space, the reduction of vacancies, the reduction of operating costs and the expansion of existing space.
As one of the few medium-sized real estate companies in Germany, we offer all levels of value creation – nationwide. We don't just tear down buildings to build new ones. Instead, we set great store on creating vibrant urban neighbourhoods with optimum production and working conditions for companies in a swift and cost-conscious manner. To this end, we focus on the development of existing buildings in combination with that of new spaces.