Professional property management – BEOS meets
Asset and property management go hand in hand with us. The employees of BEOS and those of its own property management company BEREM therefore jointly make up the project workbenches.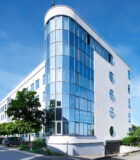 Whether asset manager or property manager, everyone at BEOS sits on the same workbench
Property management is subject to high requirements and is a real all-round job, particularly in the case of the multifaceted corporate real estate segment. In addition to tenant management and operational property management, it is particularly important to ensure consistent implementation of the property strategies on the individual sites.
In order to offer our tenants the best possible service and achieve optimum results for the owners and investors of the corporate real estate we manage, BEOS founded its own property management company in 2013. BEREM Property Management GmbH specialises in mixed-use commercial real estate and is exclusively active in project developments and existing properties managed by BEOS.
The BEOS and BEREM teams jointly implement modernisation measures efficiently and sustainably at the digital and real project workbench – and in a way that ultimately benefits everyone.
Find out more about BEREM Property Management GmbH here (German Website).