Shaping the real estate industry sustainably together
We have set ourselves the ambitious goal of becoming the market leader in sustainable corporate real estate by 2025 in order to meet our environmental, social and governance responsibility in true BEOS style.
Thinking ahead. Shaping things together.
For BEOS and the entire Swiss Life Asset Managers corporate family, responsible action is not the only basis of our business activities. Sustainable handling of the environment, added value for society and the conscientious weighing of risks and opportunities shape the thoughts and actions of each individual team member.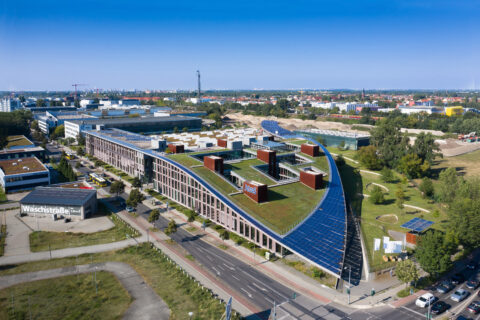 Our ESG concept is based on three pillars: fiduciary obligations, intergenerational responsibility and active stewardship. On this basis, we jointly address the overarching sustainability priorities on a daily basis in order to contribute to climate and species protection and promote social inclusion, well-being and business integrity. Our purpose, enabling people to lead a self-determined life, is an important guideline both for our real estate concepts and for our day-to-day team activities.
Learn more about the sustainability strategy of Swiss Life Asset Managers
Accordingly, our focus is on applying ESG criteria in all areas and at all levels without exception – from ESG due diligence at the investment stage to the sustainability building directive in the development phase, to optimising consumption and safeguarding tenant satisfaction. Mastering the challenges of both the present and the future requires the cooperation of all our colleagues, tenants, partners and investors, as well as far-sighted cooperation.
Each of our team members is an ESG manager
Around 97 ESG ambassadors at Swiss Life Asset Managers are currently working across borders and divisions to integrate sustainability across all asset classes into all core business processes. In addition, around 20 focus groups have been set up at BEOS over time to deal with topics such as waste management, host culture, biodiversity, open space, green leases, mobility, photovoltaic systems, the thermal transition and the further development of the BEOSphere.
Meanwhile, sustainability has become a project close to the heart of the entire company. Together with our colleagues at Swiss Life Asset Managers, we are a team of around 700 employees throughout Germany. We are project, property, portfolio, fund, construction, marketing, communication, HR, risk, IT and office managers. In other words, we are 700 ESG managers.
What does ESG mean to us?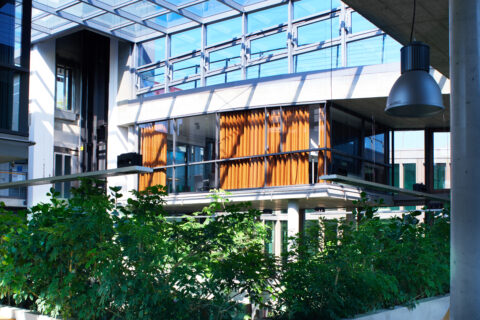 Durability, environmental compatibility, economic stability and social responsibility – these are some of the key words used by BEOS and BEREM in autumn 2019 to establish the cornerstones of a sustainability strategy. This was followed by the establishment of communication channels and a timeline, a materiality analysis and several workshops in order to integrate the team and explain the results to everyone in more detail.
It quickly became clear that while optimising environmental aspects is the greatest lever in our industry, it is not enough. In addition to the "E", the "S" and "G" must also receive sufficient attention. In other words, we pay attention not only to environmental issues, but also to social sustainability and to sustainable corporate management.
For us as a real estate company, the "E" stands in particular for environmentally friendly construction, nature conservation and, of course, energy and climate management.
Our social activities – i.e. the "S" – are aimed both at our employees, including in the form of a good work-life balance, and at our tenants and users by creating sustainable neighbourhoods.
In the "G", we assume corporate responsibility for our investors with the corresponding investment strategy, but also for BEOS itself through cooperation and innovation and a responsible corporate culture through partnership and a level playing field.
Five fields of action have been derived from the three areas "E", "S" and "G" and aligned to the real estate life cycle with the involvement of all stakeholders: BEOS as a company, development, asset management, energy and portfolio. All five of the areas identified focus on people – from employees and tenants to partner companies and investor groups. All ESG measures and successes have since been and will continue to be allocated to these fields of action.
Responsible Investment Reports
Contact
Dr Maximilian Riede

Head ESG | Swiss Life Asset Managers Deutschland GmbH

Get in touch

Kostja Rozanski

ESG-Manager | BEOS AG

Get in touch