Satisfied tenants and investors are our greatest reward…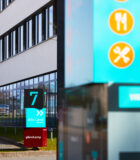 …but we are also delighted to receive recognition and support
"Thinking ahead" is our philosophy, and our goals are accordingly ambitious. Satisfied tenants, investors and partners are the greatest reward in our line of work.
However, the recognition we receive in other ways, such as awards from independent institutions, is also highly appreciated.
Architecture, management, branding – we have been singled out for these awards
We firmly believe that "thinking ahead" should not be limited to our own company. Instead, it is important to share knowledge and practical examples with the entire industry and society as a whole. We are therefore also actively involved in professional organisations, carry out teaching activities and publish academic articles.
We promote young talent – and the local economy
BEOS and its staff are members of the following organisations or support them. In addition, the Executive Board and BEOS team members are lecturers at universities in Berlin, Regensburg and Wuppertal.