We view corporate real estate holistically – from asset management to further development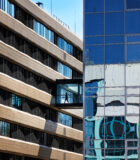 As an experienced partner of institutional investors and tenants alike, BEOS AG offers a full range of in-house services in the areas of portfolio, asset and property management, project development and corporate solutions. In addition, we also carry out complex sale-and-lease-back transactions. We thus cover all measures that are important and value-adding for our users and enable our investors to maintain value stability and constant cash flows.
Our team consists of over 240 experts collaborating on an interdisciplinary basis at BEOS and its in-house property management company BEREM. It aims to find a suitable solution to each challenge on the virtual or real project workbench. With this approach, we stand by the quality of our work without reservation. Moreover, the approach and processes of BEOS are geared towards enabling active participation not only for tenants and investors, but also for municipalities, neighbours, service providers and other partners.