"Sale-and-lease-back" – more capital for the core business and a reliable landlord
A sale-and-lease-back transaction gives property owners the opportunity to free up liquidity for innovations and investments. At the same time, they benefit from professional tenant management from BEOS.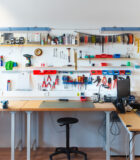 BEOS AG is a reliable real estate partner for medium-sized companies.
A sale-and-lease-back of their property enables companies to release equity tied up in real estate.
However, in contrast to traditional leasing models, we at BEOS offer our clients more than just pure financing solutions. Instead, we develop bespoke, medium to long-term sale-and-lease-back models designed specially to address the specific requirements of each individual company. These include flexible contract structures with renewal options and special termination rights. In addition, companies can continue to operate largely independently as tenants.
Thanks to our tailored solutions, past clients have been able to increase liquidity for their core business, react flexibly to evolving market conditions, optimise business processes and raise the value of their companies.
Since specialising in the acquisition and revitalisation of corporate real estate in 2002, BEOS has concluded numerous sale-and-lease-back transactions with some of the biggest and best names in German and international industry, including Siemens, Daimler, Mahle, Kodak, BOA, Deutsche Post, Alcatel and many more.