BEOS Corporate Real Estate Fund Germany I
In October 2010, BEOS AG made the corporate real estate asset class available to institutional investors for the first time by launching the "BEOS Corporate Real Estate Fund Germany I".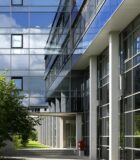 The initial volume of the first BEOS special fund comprised twelve properties with a purchase volume of EUR 220 million. After just two and a half years, the vehicle was already fully invested. As part of the "Optimus Prime" portfolio deal, the fund was recapitalised in 2018, generating an average annual return of 13 percent for initial investors with a sales volume of more than EUR 500 million with 21 properties. To date, BEOS has been responsible for the asset and portfolio management of the properties.
Continued regular appreciation
In 2021, the fund also grew by another property in Hamburg with development potential. The resulting capital appreciation complemented the active management strategy of "BEOS Corporate Real Estate Fund Germany I" to achieve stable distributions. In addition, several rental successes were celebrated in Berlin in 2022: a long-term lease was signed with Avolabs in Wolfener Straße, and Jenoptik will in future be based on Groß-Berliner-Damm. The fund also received a Green Star in the GRESB rating.