BEOS Light Industrial Germany I
"BEOS Light Industrial Germany I" was launched at the end of 2020 as an open-ended real estate special AIF managed by Swiss Life KVG exclusively for institutional clients of Deka Immobilien Investment GmbH to offer them specialised access to the corporate real estate market for the first time.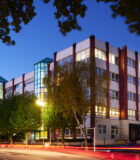 Within the scope of this cooperation, which is based on a concept developed specifically for Deka by BEOS AG, Deka assumes the distribution and coordination function and bundles the investors' interests, while BEOS, as the asset manager, implements the investment strategy and is responsible for active asset management.
Corporate real estate in economically strong locations
"BEOS Light Industrial Germany I" is based on the tried-and-tested approach of the four existing BEOS special funds and has a target volume of EUR 700 million. Mixed-use commercial properties are purchased in economically strong regions with the use types manufacturing, service, storage, distribution, laboratory and office that have a high capacity for alternative uses.
The first purchases for the fund were made shortly after launch. With a fully let business park in Hamburg, a portfolio deal comprising eight properties and three further corporate properties in Wedel near Hamburg, Sindelfingen and Duisburg, a broadly diversified portfolio was built up within a short time.