BEOS Corporate Real Estate Fund Germany III
"BEOS Corporate Real Estate Fund Germany III" followed in 2015 due to the marked increase in investor interest.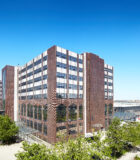 The target volume of EUR 1.1 billion initially planned was raised to almost EUR 1.5 billion following a capital increase in 2018. The third BEOS special fund has been fully invested since the acquisition of the "Alte Hauptgüterbahnhof Hannover" at the end of 2019.
Further transformations in the 2020s
In 2021, the portfolio was optimised with the sale of a 24 000 square metre sub-plot of land in Frankfurt's "Europort" business and logistics park to an international data centre developer. Just one year later, the remaining land was sold to the same buyer – with both deals resulting in a significant appreciation in value. In addition, traditional warehouse space was transformed into modern office space in Berlin's "Dock 100", thereby increasing the existing capital appreciation potential.