BEOS Corporate Real Estate Fund Germany IV
"All good things come in threes." However, this does not apply to BEOS AG, which thinks ahead, and in October 2018 launched the fourth BEOS special fund.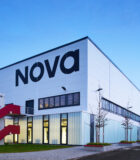 "BEOS Corporate Real Estate Fund Germany IV" is in no way inferior to its predecessors – immediately after its launch, the vehicle grew to 32 corporate properties with the purchase of the "Laetitia" portfolio. This initial portfolio already enabled a significant portion of the planned target volume of EUR 1.1 billion to be invested.
Stability through diversification and active asset management
Since then, the fund has grown steadily and is now close to full investment. While the property in Altlandsberg was sold, further acquisitions were made in Gilching and Sankt Augustin. The additional assets acquired generated a broad tenant mix. Combined with the active asset management of BEOS, this diversification ensures stability. All these successes contributed to this fund also being awarded a Green Star in the GRESB rating.